Multipurpose Basic Bread Roll
Fluffy, buttery rolls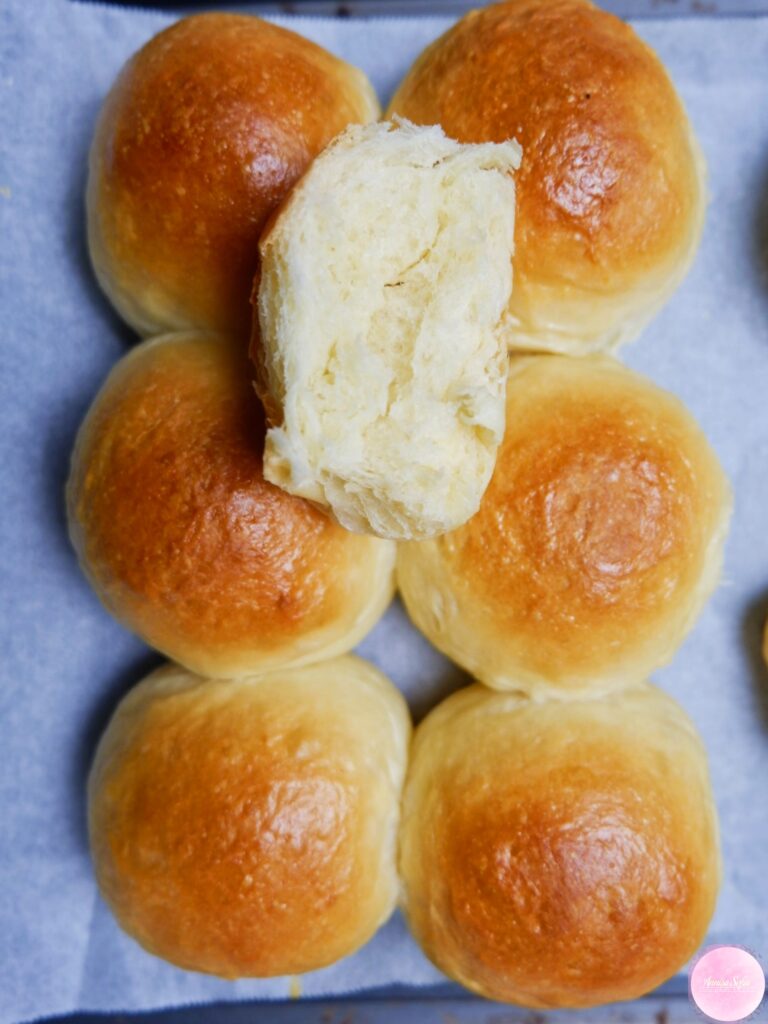 I just started making bread last year – thanks to the pandemic and being coped up at home. Credit to my friend for sharing her basic bread roll recipe which I have improvised over the months. Now, this has become a staple bake at home. I bake them almost weekly!
Most of the time, I just use a bread maker for kneading the dough. But, it is totally doable using a stand mixer with hook attachment or by hand (this is how I started).
Hope you will give this a try and let me know you liked it.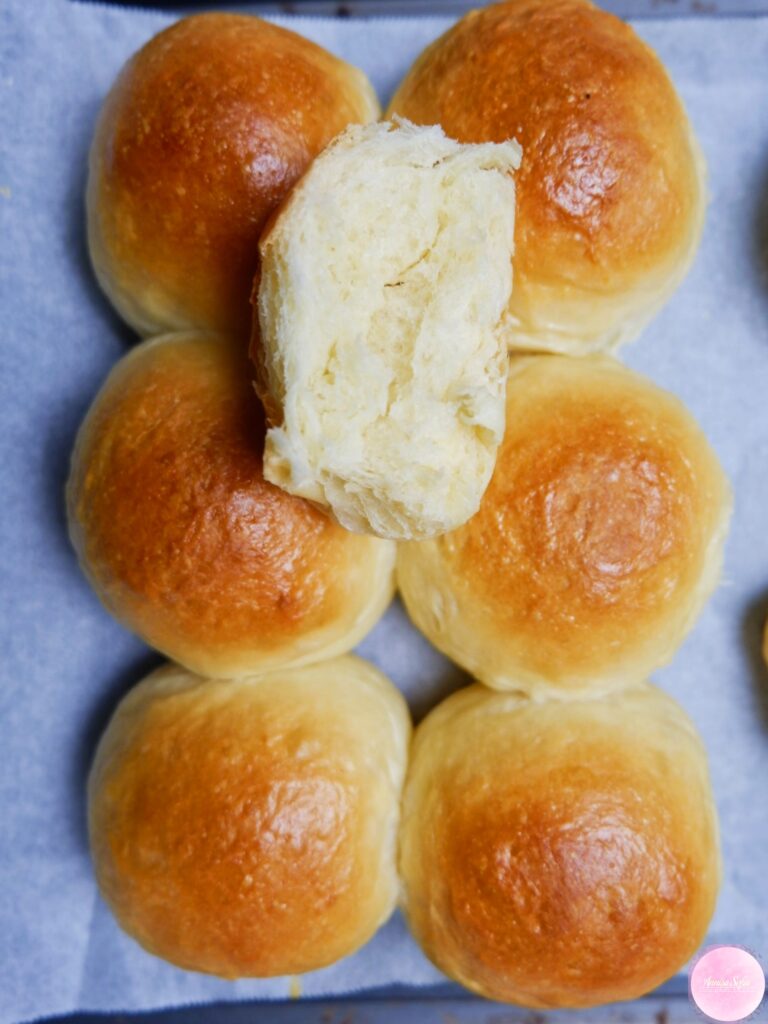 Multipurpose Basic Bread Roll
Description
This my go-to basic bread roll recipe. It not only great plain, but also with fillings. Want a chocolate-filled bun? Making a twist bread? Just use the same dough.
This recipe makes 16 bread rolls.
Prepare yeast

Add about 2 tbsp of water and 1 tsp of sugar to the yeast. Mix and let it stand for 5-10 minutes until frothy. 

This step is to check whether the yeast is still active. If you are using a newly-opened packet of instant yeast, you can skip this step and add it in along with the other dry ingredients.

Add wet ingredients

Add in water, egg and yeast into the bread maker container.

Add dry ingredients

Add bread flour, milk powder, sugar, baking powder and bread improver.

For the salt, make a well at the corner of the flour, add it in and cover with flour.

Add in butter as well. 

1. If you are adding yeast here, add it at the opposite corner of the salt. 2. If using a stand mixer/ kneading by hand, start with dry ingredients then mix in the wet ingredients. Add butter last.

Knead dough

Select knead or dough function on the bread maker.

Once done kneading, let it rise for approximately 1 hour, or until double in size. Rising time may differ based on surrounding temperature. Warmer temperature means faster rising time and vice versa.

Kneading using a stand mixer will take around 10 minutes. Kneading by hand will take around 15-20 minutes.

Shape dough and second rise

Once dough has risen, knead for a while to remove the air. Then divide into 16 pieces.

Shape the dough into balls. Place onto lined baking tray and let it rise for the second time until double in size. This should take around 40-50 minutes (depending on temperature).

Preheat oven and bake

Once dough has sufficiently risen, preheat the oven to 160°C for 10 minutes prior to baking.

Brush the dough with some milk just before baking.

Bake for 20-25 minutes until brown.

Ready to serve

Once baked, remove from oven and let it cool for a while in the baking pan. Best serve warm. Enjoy!

Bread can be kept at room temperature for 3-4 days in an airtight container. To reheat, simply microwave for 10-15 seconds.
Bread, Bread rolls, Buns
Have you tried this?
Recipe Card powered by