Cranberry Cream Cheese Bun
Soft, fluffy bun with tangy, sweet filling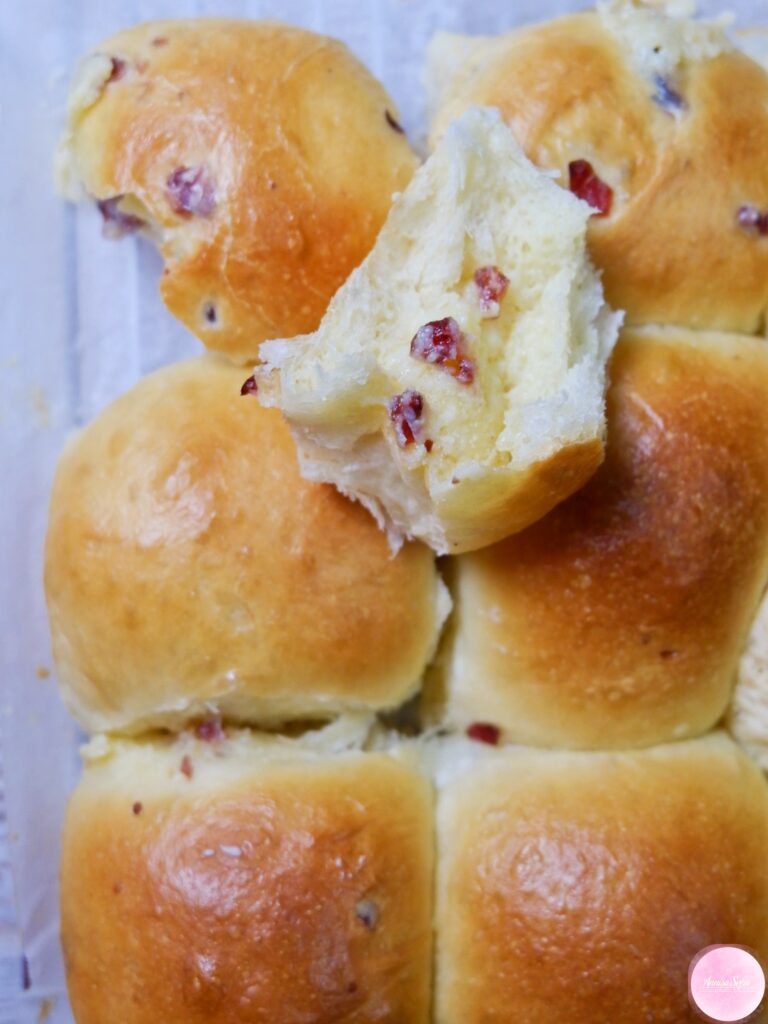 This is another variation of buns using my basic bread dough recipe. This time round, I paired the buns with a tangy, sweet cranberry cream cheese filling.
Hope you will give this a try and let me know how you liked it.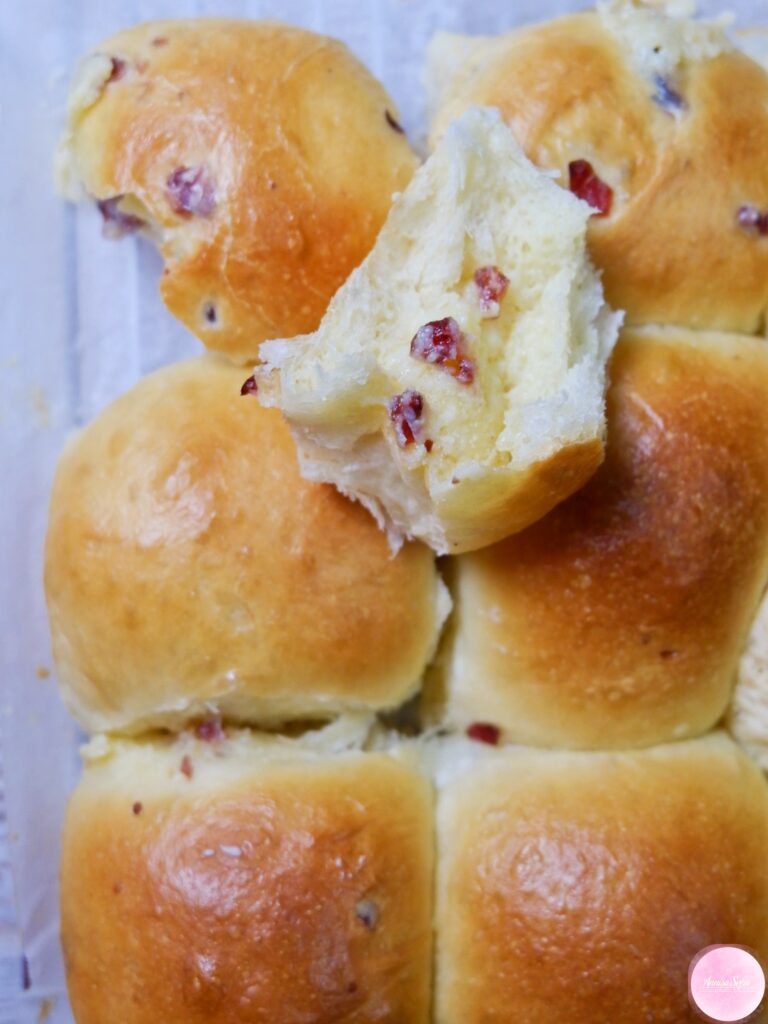 Cranberry Cream Cheese Bun
Description
This recipe pairs soft, fluffy buns with a tangy, sweet cream cheese filling. The buns can be kept for 4-5 days at room temperature. To reheat, simply microwave for 10 seconds.
Bread Dough
Cream Cheese Filling
Prepare yeast

Add 2 tsp sugar and 2 tbsp water to the yeast. Stir and let it sit for 5-10 minutes until frothy.

Mix dry ingredients

Add bread flour, milk powder, sugar, salt and baking powder into the bowl of a stand mixer with the hook attachment.

Mix on low for 30 seconds.

Add wet ingredients

Add egg, water and yeast mixture. Start mixing on low, then increase speed to medium. Beat until it forms a ball. 

If the dough seems a bit dry, add in 1/2 tbsp of water.

Add butter

Add in soften butter. Continue beating on medium speed for 5-7 minutes.

Prepare the cranberries

While the mixer is running, cut the cranberries into small pieces. Divide into 2 portions.

Check dough

Once the dough is able to be stretched without breaking (refer video), it is ready for proofing.

If not, beat for additional 1-2 minutes.

Add cranberries

Add half of the cranberries into the dough. Beat for 30 seconds on medium to distribute the cranberries.

First rise

Shape the dough into a ball. Cover and let it rise until double in size. This should take around 45 minutes to 1 hour, depending on the surrounding temperature.

Prepare cream cheese mixture

Combine all ingredients for the cream cheese mixture, except the cranberries. Start beating on low then increase to medium. Beat until white and fluffy. Add in cranberries and give it a mix. Set aside.

Keep refrigerated if not using immediately.

Shape dough

Divide dough into 16 pieces. Shape into a ball then flatten dough. Place a teaspoon of filling in the middle of the dough. Seal the seams tightly and reshape into a ball. Place onto a lined baking tray.

Repeat for all. 

Second rise

Let dough rise for the second time around 40-50 minutes until double in size.

Preheat oven

Preheat oven to 160°C for at least 10 minutes before baking.

Brush dough with milk

Before baking, lightly brush the dough with milk. 

For extra soft buns, pour 1-2 tbsp of milk onto the dough before baking.

Bake

Bake for 18-20 minutes until nicely browned.

Serve

Remove from oven and let it cool slightly before serving. Can be served warm or cold. Enjoy!

To reheat bun, microwave for 10 seconds.
Bread, Bread rolls, Buns
Have you tried this?
Recipe Card powered by